This basket is the first, and largest, in a special series of four baskets to help relocate four rescued lions from Ukraine to a wildlife sanctuary in South Africa. It is named after Nathan, the young lion cub rescued by Lionel de Lange (from the Ukraine Chapter of the Lawrence Anthony Earth Organisation – LAEOU) from an animal trader and circus trainer. Nathan and his sister were taken at two months old to ultimately be sold to a private zoo or circus. Unfortunately, Nathan's sister has already disappeared into that horrific life. At the time he was found, Nathan was living in a small concrete cage with no access to an outside area. Below is a video of Nathan in the temporary enclosure built for him by the LAEOU team whilst they prepare for his relocation to the Kragga Kamma Game Park in South Africa.
It's an extremely expensive operation to relocate four lions across the world. In fact, Lionel needs more than US35,000! To help the LAEOU raise funds for this complex relocation, I've offered this basket and three small baskets in a raffle. Visit my blog post to learn more about this fundraiser and how to enter my Baskets for Lions competition.
I'd love it if you could share this post to help get the word out. Thank you!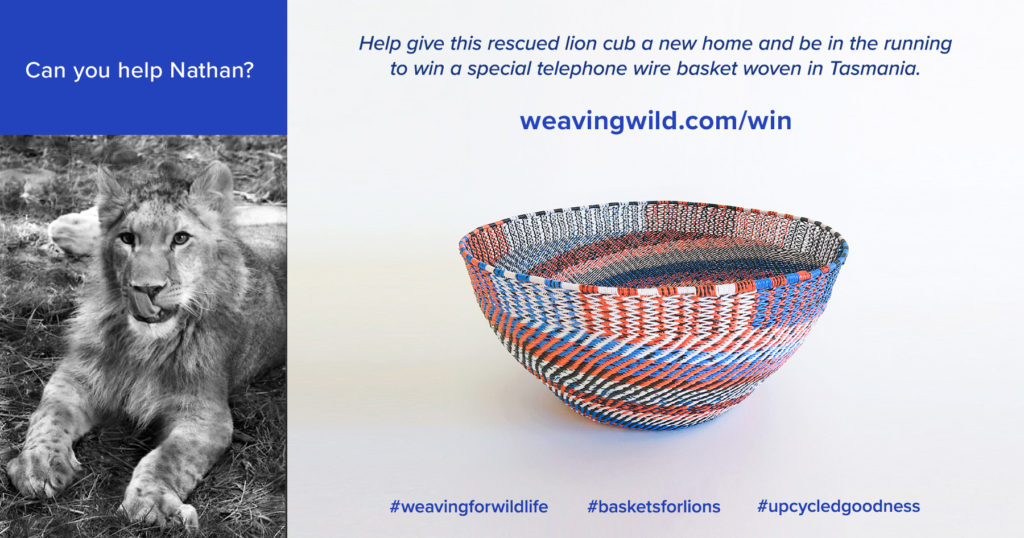 Basket Evolution
started 10 December 2017 at Cape Surville on Tasmania's east coast;
some time in April 2018.
Passport Stamps
In the course of its construction, this basket has been to:
Cape Surville, east coast Tasmania
Bluff River Gorge, eastern Tasmania
Crocodile Rock, kunanyi/Mt Wellington, Hobart
Grey Mountain, Snug Tiers, south east Tasmania
Mt Sprent, Tasmanian Wilderness World Heritage Area
Mt Mawson, Mt Field National Park
a coastal walk near Cygnet
Biography